What is a resume?
A resume (or "CV" outside of the US) is a formal document that provides an overview of your professional qualifications, including your relevant work experience, skills, education, and notable accomplishments. Usually paired with a cover letter, a resume helps you demonstrate your abilities and convince employers you're qualified and hireable.
The spelling of resume originates from French, and means "summary." To this day, the purpose of a resume is still to provide employers with a summary of your relevant qualifications.
If you're applying for a job, you need at least a resume to be considered for the position.
On a base level, a resume is made up of the following five parts:
Contact details
Introduction
Educational background
Work history
Relevant skills
Example of a resume
Not sure what a US resume should look like? Here's a resume example written by a candidate with a few years of work experience: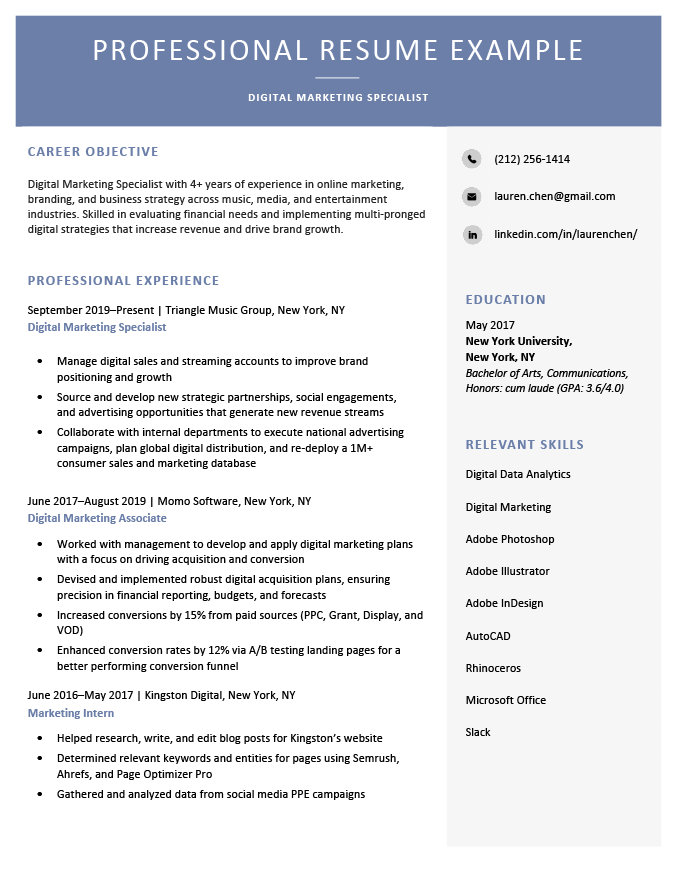 In the above example, the candidate manages to fit all their qualifications onto a single, neatly organized page.
If you have fewer than 10 years of work experience, your resume's length should always be one page. However, if your career is decades long, you should use a two-page resume because it gives you enough space to highlight all your relevant accomplishments.
What is the purpose of a resume?
The purpose of a resume is to show employers you're qualified for a position and convince them to offer you an interview.
Many job seekers wrongly assume their resume should provide a full overview of their professional history.
Instead, think of your resume as an advertisement of yourself. Your resume should only emphasize your most relevant experience and skills, and highlight your most notable strengths and accomplishments.
If your resume quickly makes your ability to handle the work clear to hiring managers, you'll catch their attention and get more interviews.
What to include on a resume
Skip to 1:24 in the below video to hear from an expert what you need to include in a resume:
To expand on what the expert says, what you should put on your resume depends on the job you're applying for and your relevant professional background.
At a minimum, be sure to include these sections on your resume:
Types of resumes
A common misconception is that there's only one way to write a resume. There's actually a variety of formats, and each resume format is used to emphasize different resume sections.
Depending on your specific skill set or work history, one format might be better suited to highlight your qualifications than another.
There are four main types of resumes:
Chronological resume
Functional resume
Targeted resume
Combination resume
To help you understand the differences between each resume format and decide which is the best for you to use, here's a detailed breakdown:
1. Chronological resume
A chronological resume opens with an introduction, and then provides an overview of your professional history in reverse-chronological order (meaning your most recently held position is listed at the top).
The chronological resume format is the most common type of resume used by job seekers today, and is suitable for candidates with various experience levels.
Example of a chronological resume
2. Functional resume
A functional resume is formatted to focus on your skills and abilities rather than your career progression. It's preferred by professionals who want to draw attention away from their traditional work experience, such as those who are changing careers or have significant gaps in their work history.
While similar to other resume formats, functional resumes are unique in several ways:
The skills section takes up most of the page, and categorizes your professional accomplishments according to the skill is demonstrates
The work experience section is short and barebones
Example of a functional resume
3. Targeted resume
A targeted resume is a resume you write with a specific position in mind.
Use this format to clearly highlight the skills and experience you have related to the position — writing each part of your resume in a way that best emphasizes your necessary qualifications.
To write a strong targeted resume, scan through the job listing for the position you want to fill. Typically, hiring managers include the skills, responsibilities, and traits that they want candidates to possess directly in the job description. Showcase these qualities on your resume to demonstrate you're an ideal fit (if you have the mentioned qualities).
4. Combination resume
A combination resume is a format that combines aspects of a functional resume and a chronological resume.
While a chronological resume focuses heavily on experience and a functional resume emphasizes skills, a combination resume typically balances both work history and skills equally to demonstrate your qualifications.
Combination resumes are ideal for candidates who have extensive experience or a highly developed set of skills that they want to showcase.
Example of a combination resume
Why resumes are important for job seekers
Your resume is an essential part of the hiring process and the base requirement to be considered for a position.
A good resume is the first part of your application any hiring manager will see, so it's important that it conveys your qualifications accurately and convincingly.
Your resume should offer employers a quick overview of your relevant skills, employment history, education background, and accomplishments. Based on this information, they can make an informed decision about whether or not they want to interview or hire you.
It's no secret that you won't get far looking for jobs without a resume, meaning that as a job seeker it's a necessary document that you'll need sooner or later. If you're ready to get started, simply download your favorite online resume template and begin writing!