The job market is competitive, so it's important to make your job application stand out any way you can. Using an infographic resume is one way to show off certain skills and set yourself apart from other applicants.
However, using an infographics resume isn't for every job seeker. Before you try making an infographic resume, it's important to consider whether it's the right option for you and the job you want.
In this article we'll:
What is an infographic resume?
An infographic resume is a resume that uses graphics to visually represent information, often in the form of bar charts, graphs, timelines, or statistics.
This style of visual resume is often used to convey a candidate's skill in graphic design or another artistic field.
Using an infographic resume
An infographic resume is useful for grabbing attention and highlighting your skills in a creative way. However, in some cases using an infographic resume could come across as unprofessional and negatively impact your chances of landing a job.
That's why it's important to know when exactly it's appropriate to use an infographic resume (and when it's not).
When to use an infographic resume
You should only use an infographic resume when you're using it to showcase skills directly related to the job you're applying for (such as graphic design) and you're capable of making it look professional. Generally, infographic resumes are only used if you're applying for work in the arts or marketing.
More specifically, here are some fields in which an infographic resume may strengthen your application:
Content creation
Brand management
Outside of creative fields like these, however, using a graphic resume may wind up hurting your chances of landing a job by making you appear less professional or distracting from your work experience.
How to use an infographic resume
If you decide to use an infographic resume, you should consider it a supplementary addition to your application.
Generally, hiring managers also prefer to receive a traditional resume to see a clear overview of your work history. So if you're submitting an infographic resume, you should also include a traditional resume alongside it.
If you decide to use an infographic resume, here are some ways to showcase it:
Attach it in an email to your hiring manager, if you are in direct contact.
Display it on your Linkedin profile or an online portfolio – chances are good a hiring manager will take a look at these, especially if you provide a link on your resume.
Bring it with you to your interview – having beautifully designed supplementary materials is sure to make an impression on your interviewer.
5 infographic resume examples
Here are five of the best infographic resume examples we've found online that you can use as inspiration when you make your own:
1. A creative header
Darko Vujic's bold and colorful header draws the eye and creates a strong impression. The use of white space below and sparse splashes of color bring balance to this infographic resume.
2. Make it playful
This resume by Yuing Nguyen uses a lot of color but the tones are subtle, ensuring that it isn't overwhelming. The cutesy style and illustrations convey a friendly, casual personality.
3. A minimalist approach
Frederica Giorgi's resume is simple and clean yet includes playful hand-drawn design elements that separate sections and make the resume feel light and casual.
4. Show off your style
Alysa Choudri's resume melds beautiful design with infographics, featuring a distinct color palette and personal style. Sharing your own unique aesthetic can often work to your advantage when applying for jobs in design.
5. Add contrast
The high contrast of this design by Julio A Ramirez is visually striking and draws immediate attention to the candidate's profile, creating a sense of structure and flow.
11 infographic resume templates you can use
If designing your own infographic resume is too much, there are plenty of great templates you can download and fill out yourself.
Here are eight infographic resume templates we love:
1. Black and white
This free dark infographic resume is sure to turn heads with its sleek, futuristic design. A modern layout and pops of neon color help guide the reader towards important information about your experience, ensuring that hiring managers get what you want them to from your resume.
2. Visual representation

Download This Free Template
Our free visual resume template was designed for job seekers who want to represent their skills and experience without writing a detailed work experience section.
The large donut graph gives employers a clear visual for some of your key skills, while a unique chronological chart at the bottom details a bit about your career trajectory, making it an excellent visual companion to your traditional resume.
Better yet, there's a corresponding cover letter to keep your job application's style consistent.
3. Stand out
This free creative infographic resume template will grab a hiring manager's attention with its unique graphics and bold color scheme.
Timeline graphics creatively showcase your work experience and education while circle percentage charts offer employers an insight into your proficiencies. Additionally, there's a separate section to mention your areas of expertise as well as your hobbies.
4. Unique layout
This creative resume template from Vincenzo features an innovative layout and bold color scheme, making this a great infographic resume for those in design.
Each piece of this resume stems from a central graphic feature that draws the eye and guides the reader to relevant information. Individual elements of the central graphic represent a different resume section and branch into detailed information or additional infographics to represent skills and work experience.
5. Extended resume
This free infographic resume template is longer than your average resume, but the extra space doesn't go to waste. Andrew uses his visual resume to showcase his design and typography skills, including a header with distinct fonts and a design element at the bottom that demonstrates his creativity.
The graphics throughout this infographic resume can effectively inform potential employers about your work history, skills and specialties. This resume is perfect for designers submitting documents electronically.
6. Detail-oriented
Available in several colors, our free detailed resume template adds a little extra infographic flair without departing too much from a traditional resume.
You can still include all of the information you need to demonstrate your qualifications to employers. A bar graph provides the opportunity to quickly and effectively convey your skills and level of proficiency in each.
7. Contrasting colors
The contrasting colors in this infographic resume draw attention to the main graphic features on the resume and highlight key skills. Information is organized into clean, distinct sections to make it easy to follow.
This resume makes good use of infographics, including a map infographic to describe experience, bubble charts to represent language ability and hobbies, and pie charts, bar graphs and circle percentage charts to convey key skills.
The simple and clean layout keeps all of these elements from overcrowding the page, resulting in a sleek infographic resume.
8. Simple but effective
The organization of this infographic resume template is simple, professional and visually appealing. It allows you to present your resume sections beautifully without drawing attention away from the content.
This resume offers effective use of infographics, including bubble charts, bar graphs and percentage charts to describe your qualifications. A matching cover letter is also available to elevate your application and impress potential employers.
9. Bold colors
This infographic resume uses strong colors to make an impression and highlight key pieces of information, making it easy for a hiring manager to follow.
For job seekers looking for something a little longer, this infographic resume offers two pages to showcase your skills, work experience and education, and some extra sections. Use the map infographic, bubble chart, graph chart, circle percentage chart and timeline graphic to demonstrate to employers why you're the right fit for their company.
10. Balance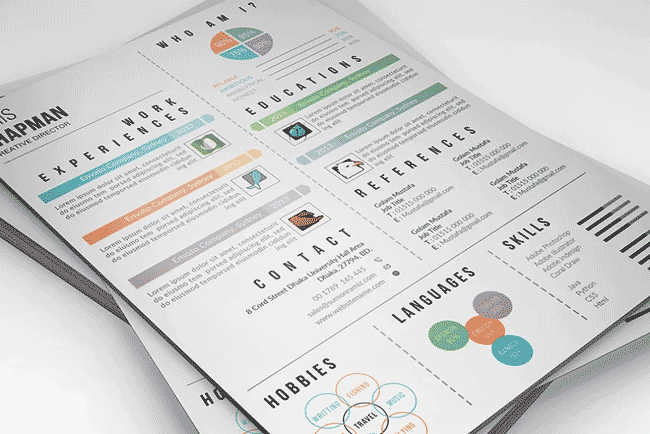 The symmetrically balanced layout of this infographic resume template is pleasing to the eye, and the use of color gives it structure and flow.
Use the bubble charts, bar graph and pie chart to let employers know what skills and hobbies you possess. The work experience and education section offer a clear layout to format your information. As an added bonus, this infographic resume includes a section to list several references.
11. Social resume template
Our free social resume template comes in several monochrome shades as well as this colorful version, and comes with a matching cover letter.
The simple layout allows you to present information clearly to potential employers. A bubble graph lets employers know what soft skills you possess, with an additional section dedicated to showcasing your technical skills.
Additionally, bar graphs for each listing in your work experience section let employers see your primary duties for each position by percentage.
What makes a good infographics resume?
A good infographics resume will help you stand out to a hiring manager and give you an advantage in the hiring process.
But to do this, your infographic resume has to be both visually appealing and packed full of achievements and qualifications.
How to make a good infographic resume
Now that you have a lot of great ideas for an infographic resume, it's time to think about what shape yours will take.
3 elements of a good infographic resume + tips
Here are three important elements of a good infographic resume, and tips for how to achieve them:
A clean and attractive design
This comes back to following the basic design principles: alignment, hierarchy, contrast, repetition, proximity, balance, color, and space.
If you're not very experienced in graphic design, it's worth brushing up on the basic principles of design before diving right in.
Make sure your resume is balanced, clear, and easy to follow. There should be some structure and visual flow to make it easy for hiring managers to find the information they're looking for.
Don't overcrowd your resume. If your infographic resume is too busy, it'll just be difficult to read and leave a negative impression with the hiring manager. Remember that since this is serving as a supplementary document instead of your actual resume, it's okay to leave some information out.
Effective use of graphics
A good infographic resume is visually concise, with a design that includes only what is needed and leaves out the rest.
Every visual element on your infographic resume should add value. Don't use a visual element just because you can. Otherwise, your resume will end up crowded with elements that don't really contribute anything.
Infographic resumes are the perfect opportunity to showcase quantifiable achievements, so be sure to consider what hard numbers you can use to show your experience and accomplishments.
Thinking in terms of percentages, dollar amounts, or time might give you some ideas.
Great content
Finally, an infographic resume is only as good as its content.
Supplementary document or not, hiring managers are still busy people who want to cut right to the chase.
They don't want to see a page full of cute icons representing your many hobbies or a graph for how many cups of coffee you drink per day, they want to know how and why you're qualified for the job you're applying to.
Use your infographic resume to really focus on the highlights and showcase your greatest achievements.
Create graphics that visually represent your qualifications.
Leave out what's not relevant.