Putting a picture on your resume can seem like a good idea, especially when you're struggling to stand out from other candidates. However, in some cases a resume picture can leave a negative impression on employers, or even get your resume rejected.
To help you make the right choice, we break down exactly when you should and shouldn't include a resume photo, and how to take a professional picture (should you decide to include one). Let's jump in:
Should you include a picture on your resume in 2023?
No, you shouldn't include a picture on your resume if you're applying for work in the US, UK, or Canada. Many employers from these countries will reject applications with photos on them to avoid being accused of discrimination or bias in the hiring process.
If you'd like to offer employers more information about what you look like, the best way to do this is by linking your LinkedIn profile on your resume.
However, there are still some situations when including a resume picture is acceptable or desirable. So before you trash that headshot, let's dive into some of the reasons you should or shouldn't include a photo on your resume:
Why you shouldn't put a photo on your resume
In some situations, including a picture on your resume can sabotage your chances of landing a job. Here are all the key reasons you shouldn't include a photo on your resume:
1. Employers consider resumes with pictures unprofessional
In North America and the UK, candidates traditionally don't put a picture of themselves on their resumes. So when hiring managers come across the rare resume with a photo at the top, most find it strange or unprofessional.
Even if the employer isn't concerned about bias in the hiring process, including a picture of yourself is still irrelevant to your qualifications, and might be seen as a distraction from what's actually important: the skills on your resume, your education, and work experience.
2. Putting a photo on your resume opens you to discrimination
Even in countries with strict anti-discrimination and labor laws, putting a photo on your resume still leaves you more at risk of experiencing hiring bias than if you just didn't include a photo in the first place.
Despite being illegal, workplace discrimination is still commonplace in the United States. By including a picture of yourself, you may be putting yourself at risk of being discriminated against based on your:
Age
Ethnicity
Gender
Disability
General appearance
Our Career Expert breaks it down further here:
3. Pictures aren't ATS friendly
Many larger employers use a type of software called an applicant tracking system (or ATS) to automatically filter through job applications and remove unqualified applicants.
However, ATS software isn't always advanced, and in some cases can have issues properly scanning resumes that follow nontraditional resume formats or feature details like graphics or images.
Putting a picture on your resume can (in rare cases) cause problems for ATS software and result in your resume being automatically rejected. While this is unlikely, it's ultimately safer not to take the risk and simply keep your resume image-free.
When to put a picture on your resume
There are some situations when you should include a photo on your resume. For example, if you're writing an acting resume or applying for jobs in modeling, it's acceptable to put a photo of yourself on your resume because your appearance is directly relevant to the job requirements.
Additionally, many countries have different customs regarding resume photos. If you live outside North America or the U.K. it's possible that employers expect or require a picture on your resume.
If you're unsure what the custom is in your country, don't worry. Here's a list of countries that require resume photos and some that don't:
Use a resume photo in these countries:
China
Japan
South Korea
Philippines
Most of Continental Europe
Don't use a resume picture in these countries:
United States
Canada
Australia
United Kingdom
Ireland
The Netherlands
Sweden
India
If for whatever reason you're still unsure whether or not you should include a photo on your resume when applying to a company, it's safer to simply not include one.
Even in countries where including a photo is acceptable, many international companies use or are at least familiar with American hiring practices and won't mind your resume not having a photo on it.
How to take a good resume picture​​
If you decide to add a picture on your resume, it should always be professional and leave a positive first impression.
Any photo you include should be professionally-taken, well-lit, and clearly show what you look like. You should also be wearing professional or business casual attire in your resume photo.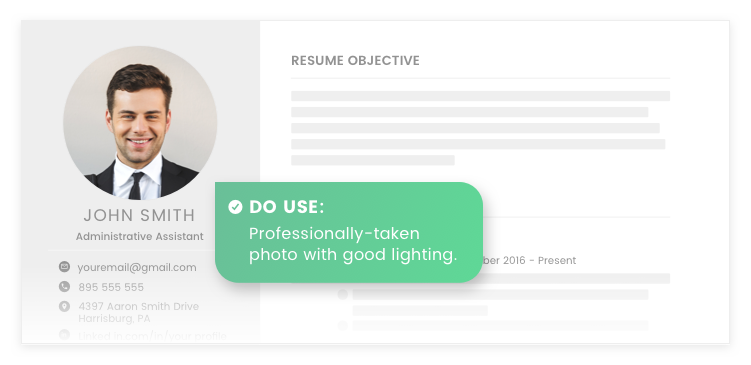 This will be the hiring manager's first impression of you, so you don't want to look unprofessional or unreliable.
Using a selfie or otherwise unsuitable resume photo is common on bad resume examples, and is likely to get your resume discarded.
Professional Photo Dos and Don'ts
Professionally-taken photo
Photo where you're facing straight toward the camera
Photo with good lighting
Photo where your face is clearly seen
Photo of you with a friendly smile
Photo where you're dressed business casual
Photo where your hair is neat and out of your face
Photo where you're wearing tasteful accessories
Selfie
Photo taken at an angle
Photo with bad or harsh lighting
Photo where your face is obscured
Photo where you look bored or unenthused
Photo where you're wearing inappropriate attire
Photo where your hair looks unkempt
Photo where you're showing too many piercings, tattoos, or accessories