Elon Musk's one page resume
A prolific entrepreneur, philanthropist, inventor, engineer, and Twitter provocateur, Elon Musk is one of the most notable businessmen of the 21st century.
With a variety of projects ranging from solar technology, to automotives, to space travel, the idea that you could condense Elon's diverse career into a single, short page seems absurd.
However, we at Resume Genius love a good challenge.
To demonstrate that anyone (seriously, anyone) can maintain a resume length of one page, we crafted a custom resume for Elon Musk. In a single page, we summarize Elon's key career achievements from the past 20 years, the notable skills on his resume, and his most impressive awards.
Without further delay, here's Elon Musk's one page resume (and a link to download an editable template version):
The Elon Musk resume template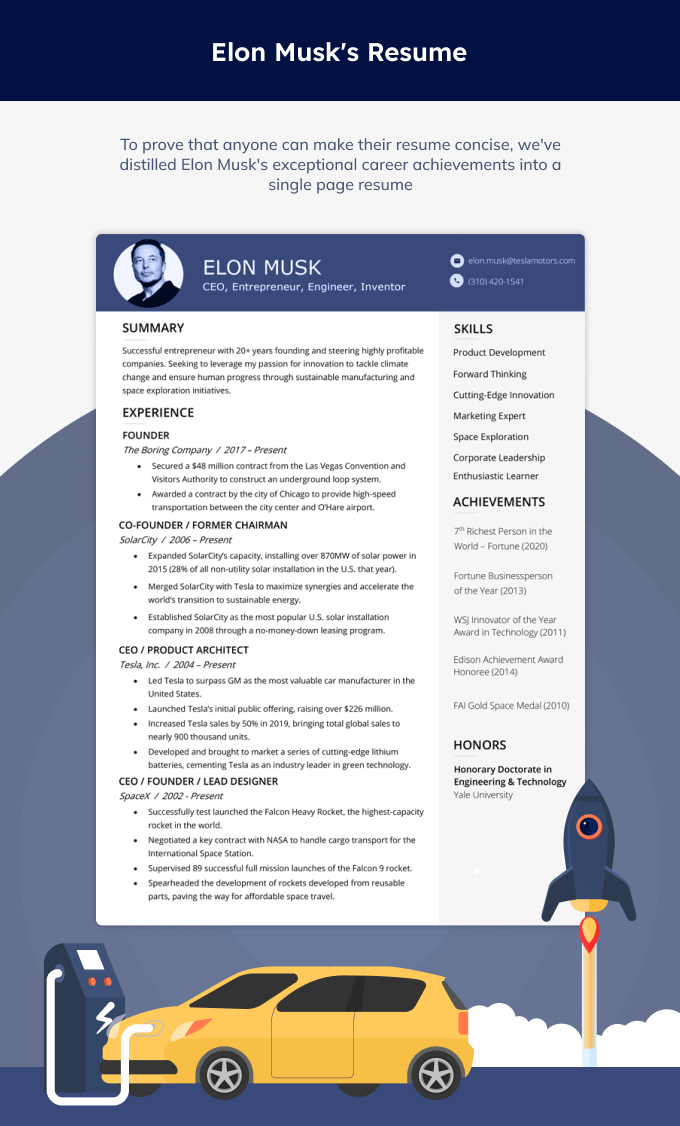 Download the Elon Musk Resume Template
Elon Musk Resume (text version)
ELON MUSK
CEO, Entrepreneur, Engineer, Inventor
elon.musk@teslamotors.com
(310) 420-1541
SUMMARY
Successful entrepreneur with 20+ years founding and steering highly profitable companies. Seeking to leverage my passion for innovation to tackle climate change and ensure human progress through sustainable manufacturing and space exploration initiatives.
EXPERIENCE
FOUNDER
The Boring Company / 2017 – Present
• Secured a $48 million contract from the Las Vegas Convention and Visitors Authority to construct an underground loop system.
• Awarded a contract by the city of Chicago to provide high-speed transportation between the city center and O'Hare airport.
CO-FOUNDER / FORMER CHAIRMAN
SolarCity / 2006 – Present
• Expanded SolarCity's capacity, installing over 870MW of solar power in 2015 (28% of all non-utility solar installation in the U.S. that year).
• Merged SolarCity with Tesla to maximize synergies and accelerate the world's transition to sustainable energy.
• Established SolarCity as the most popular U.S. solar installation company in 2008 through a no-money-down leasing program.
CEO / PRODUCT ARCHITECT
Tesla, Inc. / 2004 – Present
• Led Tesla to surpass GM as the most valuable car manufacturer in the United States.
• Launched Tesla's initial public offering, raising over $226 million.
• Increased Tesla sales by 50% in 2019, bringing total global sales to nearly 900 thousand units.
• Developed and brought to market a series of cutting-edge lithium batteries, cementing Tesla as an industry leader in green technology.
CEO / FOUNDER / LEAD DESIGNER
SpaceX / 2002 – Present
• Successfully test launched the Falcon Heavy Rocket, the highest-capacity rocket in the world.
• Negotiated a key contract with NASA to handle cargo transport for the International Space Station.
• Supervised 89 successful full mission launches of the Falcon 9 rocket.
• Spearheaded the development of rockets developed from reusable parts, paving the way for affordable space travel.
SKILLS
Product Development
Forward Thinking
Cutting-Edge Innovation
Marketing Expert
Space Exploration
Corporate Leadership
Enthusiastic Learner
Leadership
ACHIEVEMENTS
7th Richest Person in the World – Fortune (2020)
Fortune Businessperson of the Year (2013)
WSJ Innovator of the Year Award in Technology (2011)
Edison Achievement Award Honoree (2014)
FAI Gold Space Medal (2010)
HONORS
Honorary Doctorate in Engineering & Technology
Yale University
How to create a resume like Elon Musk
Elon Musk's career is impressive enough on its own, but this resume really shines a spotlight on his most notable accomplishments. It does this by using three basic methods that anyone can use to improve their own resume (even if you're not a real-life Tony Stark):
1. Quantify your accomplishments
Each bullet point in Elon's experience section features a resume accomplishment backed up with hard numbers.
For example, his resume doesn't just say "Increased Tesla sales". It specifies:
Increased Tesla sales by 50% in 2019, bringing total global sales to nearly 900 thousand units.
Thus providing a metric by which you can measure Elon's success as CEO.
Be sure to include numbers in your own resume to demonstrate your strengths to employers and what you're capable of accomplishing.
2. Create a relevant experience section
Elon Musk's resume provides a relevant and concise overview of his work experience.
The goal of a resume isn't to outline your life story, it's to demonstrate that you're qualified for a specific position. While the resume example above isn't targeting a position (after all, why would Elon Musk need to apply for a job?), it does narrow Elon's career down to only his most impressive and recently held positions.
While your professional history probably isn't as extensive or accomplished as Elon Musk's, you should also make sure to boil your experience down to only your most relevant positions.
For example, if you're applying for a job as a social media manager, the time you spent working the register at an ice cream shop in high school is best left off your resume.
3. Open with an eye-catching resume summary
Every great resume needs a hook — even Elon Musk's. That's why a well-written resume summary is so important.
A resume summary showcases your most impressive job-related accomplishments and skills, with the goal of enticing the hiring manager to continue reading your application.
Elon's resume summary provides a very brief overview of his career successes, and connects those successes to his long-term goals:
While your career goals might not involve colonizing Mars, you should still include a sentence in your resume summary stating why you're passionate about the position you're seeking to fill, and how that passion will help you advance your long-term objectives.