Whether it's written, digital, or verbal communication, being able to convey yourself clearly is a valuable soft skill for practically any job (and life in general).
That's why hiring managers are always looking for candidates who demonstrate good communication skills.
The best way to show employers that you're an effective communicator is by highlighting your various communication skills throughout your resume. But what counts as a communication skill, and how do you list communication skills properly?
In this guide, we break down the top 12 best communication skills for your resume, and provide examples of how to effectively showcase these skills throughout your application. Let's dive in.
12 examples of communication skills for your resume
Here are 12 of the most essential communication-related skills to put on your resume that will help you get the job you want:
1. Written communication
Written communication skills don't come naturally to many people. However, they are highly valued by companies, especially if you're in fields like marketing, editing, or communications.
However, even if writing isn't essential for your job, being able to communicate effectively via writing is still important. With many offices now fully or partially remote, being able to write a clear, convincing email or put together a good brief is a key skill no matter what your role is.
If you have a knack for writing, your resume and cover letter are places to prove it. Most people don't have many writing-related accomplishments to list on their resume, but writing a great cover letter is an effective way to showcase your written communication skills.
2. Verbal communication
Verbal communication skills include everything from being a great conversationalist to a strong presenter. These skills are highly important in any job that requires you to work with people, whether that's from in front of a cashier or in the boardroom.
Even brilliant engineers who spend most of their day deep in computer code can benefit from effective verbal communication skills. Being able to articulate complex ideas to people outside of your field could quickly help you move up the corporate ladder, regardless of where you're working.
Additionally, verbal communication will help you best represent yourself during interviews, meaning you'll never be far from work once you've honed it.
3. Nonverbal communication
A lot can be said even without speaking. Nonverbal communication includes details like how you move your body, your facial expressions, and eye contact.
Even when you're talking, your body is helping you convey information (whether you're aware of it or not). If you're able to harness the power of nonverbal communication skills, you'll immediately come off as more confident and capable to employers.
While nonverbal communication skills are difficult to highlight on your resume, they're an important part of your overall ability to communicate effectively, and help you make a strong impression at work and in interviews.
4. Confidence
Your ability to appear confident is essential to getting a job and succeeding in the workplace. Not only are employers more likely to respond positively to you if you're confident about your abilities, but other people are likely to trust in your competency and leadership skills if you appear confident.
Some of the most obvious ways to appear confident while communicating is by having strong posture, making natural eye contact, and talking clearly and directly.
You can also project confidence in your resume and cover letter simply by eliminating hedging in your writing, and describing your abilities in terms of achievements instead of passive responsibilities.
Being confident in your own skills and experience is one of the most effective ways to convince employers that you're the right person for the job.
5. Presenting
Being able to comfortably present information to a group of people is a valuable communication skill for many different jobs, especially those in marketing, consulting, or education.
Fortunately, most of us have been honing our ability to give presentations from a young age (think about how many class presentations you had to do in high school). As working adults, those experiences can be used to put together convincing presentations for students, clients, and executives.
Showing off your presentation skills on your resume is more straightforward than most other communication skills. For example, decks and slide shows remain a constant in the business and marketing worlds.
6. Public speaking
Similar to presenting, having a talent for public speaking is important for jobs in education, marketing, and business. Being able to project your voice and make any topic engaging for an audience (with your voice alone) is an impressive skill that's highly sought after in a variety of industries.
Not everyone has the ability to get and hold an audience's attention, so if this is one of your talents you should highlight it on your resume by listing times you've addressed an audience in your resume work experience section.
7. Digital communication
While some of us are most comfortable communicating face-to-face, others are happiest when talking over the internet. With more and more companies going fully remote, being able to communicate effectively online is an increasingly valuable skill for many jobs, particularly those in social media management or customer support.
Additionally, you can easily highlight your digital communication skills on your resume by listing apps or websites you have experience with.
For example, mention your knowledge of any of the following software in your resume skills section to highlight your ability to effectively communicate online:
Slack
Microsoft Teams
Twitter
Instagram
LinkedIn
Customer support software
8. Phone skills
Being able to hold conversations with clients and customers over the phone is still an important business skill — especially for:
Front office staff
Salespeople
Administrative employees
If you work in any of these positions or are aiming for such a job in the future, you should use your resume to highlight your phone conversation skills. One way to do this is by including a bullet point on your resume that showcases a time you had to answer phone calls for your job.
9. Active listening
When you're talking with someone, are you waiting for an opening so you can speak, or are you actually trying to understand what they're saying?
People who are able to actively listen to others make great colleagues and even better managers. While verbal communication is critical for everyone in an office environment, being able to listen to what's being said, process it, and engage with the communicator in a meaningful way is equally important and a sign that you have strong people skills.
While it's difficult to highlight your active listening communication skills on your resume, an interview or a phone screening is a great time to show employers that you're a great listener.
10. Empathy
Another good communication skill that we could all use more of in our lives (as well as in the workplace) is empathy. Being able to listen to others is a great start, but understanding what they have to say from their perspective will make you a more effective communicator and a better colleague.
Empathy is a particularly valuable skill in any job that requires interacting with people on a regular basis. For example, employers in retail, HR, and education are always looking for highly empathetic employees.
11. Clarity and directness
When you're communicating an idea it's important to be clear and direct with your words. Whether it's in your personal life or the workplace, you're likely to lose people's attention if you ramble or take too long to communicate your point.
Being clear and direct is especially important for jobs in marketing or advertising, where you need to get the attention of customers quickly.
If you're good at communicating with clarity and concision, your resume and cover letter are a great medium for showcasing this skill. Specifically, writing your resume introduction and bullet points themselves is an exercise in communicating your abilities and experience as clearly as possible while using very few words.
12. Responsiveness
You might be great at initiating contact with people, but that's only part of being a great communicator. You also need to stay in contact.
Whether you're communicating with people via email, iMessage, or phone, responding to people promptly is an essential part of having good communication skills.
Responsiveness is especially important if you work any job with strict deadlines or where issues can arise unexpectedly. Additionally, jobs that require constant liaising between parties, such as a recruiter, require high levels of responsiveness. Employers need to be able to trust that you'll respond promptly and address any work-related problems.
While you can't list "responsive" as a skill on your resume, you should absolutely demonstrate responsiveness throughout the hiring process by finishing application documents within an appropriate timeframe and promptly answering any emails or requests from the hiring manager.
How to describe communication skills on your resume
Now that you know some of the best communication skills for the workplace, it's time to highlight them on your job application.
Here's how to put communication skills on a resume like a professional:
List them in your skills section
The most direct way to highlight communication skills on your resume is by listing them as soft skills in your resume's skills section.
While not all communication skills are appropriate to list in this section (for example, "confidence" would be an odd thing to list on your resume), there are some that are fine to put by themselves. For instance, presentation skills and public speaking are both good additions for your resume skills section.
Here's an example of how to put your communication expertise in the skills section of your resume:
Provide examples in your experience section
The most effective way to describe communication skills on your resume is by highlighting them in your experience section because it gives you space to describe how you've used communication in the workplace.
You can start by including a few bullet points that provide real-life examples of how you used your communication skills to achieve results at work or in school.
Additionally, if possible you should add hard numbers to your bullet points to illustrate exactly what you were able to accomplish using your communication prowess.
Here's an example of how to include communication skills in your resume experience section (we've highlighted the communication skills in orange):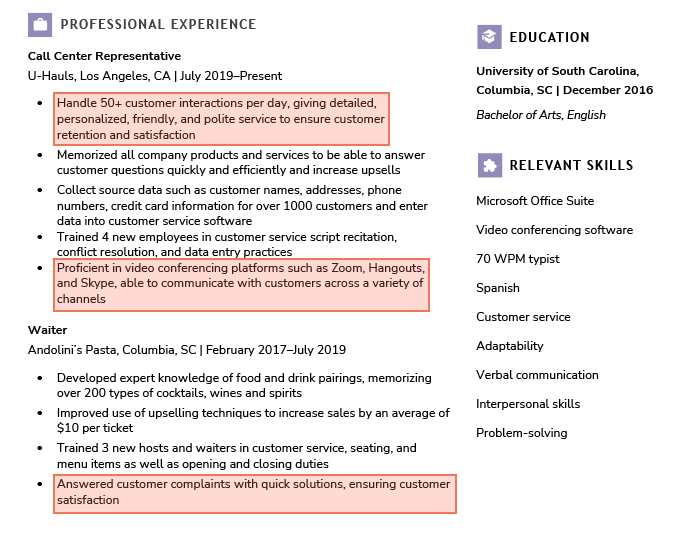 Highlight a few in your introduction
Want to make sure that employers know right from the start that you have strong communication skills? Showcase them at the top of your resume by including them in your resume introduction.
Simply including a mention of some part of communication you excel in along with a description of your background is enough to grab the attention of employers who are looking for candidates with strong communication skills.
Here's an example of how to include communication skills in your resume introduction:
"Highly responsive Office Assistant with 4+ years of experience handling paperwork and making routine office tasks as efficient as possible. Strong organizational and phone skills, and possess a Technical Writing Certificate. Seeking to use my qualifications to fill an office assistant position at DuPont."
How to improve your professional communication skills
Not sure you have strong communication skills? Don't worry, there are still steps you can take to improve your communication skills in and out of the workplace. Here are a few tips for developing better communication skills:
Pay Attention to Your Audience
When you're talking with people, be aware of who they are and where their interests lie. Are they friends from your fantasy football league? Talk with them about football. Are they coworkers? Ask them about their work, or what they like to do outside of the office.
Don't focus conversations on topics that only you enjoy. If you love comic books and can't resist bringing them up to others, that's fine — mention them. But if the person you're talking with seems uninterested in the subject, move onto something else. Or even better, ask them a question about themselves.
Ask People Good Questions
When you let other people talk about themselves, you'd be surprised at how quickly they start to like being around you.
Whether you're meeting someone for the first time or simply want to know them better, asking good questions will help you come off as someone with effective communication skills.
Even better, if you can listen attentively to what they have to say and respond sincerely, you'll earn the appreciation of friends, family, and colleagues.
Read Nonverbal Cues
Finally, you can often tell whether to continue down a topic or move onto something new based on how the person you're talking with is behaving.
If they are swiping their phone and giving you abrupt answers, then maybe it's time to change the subject. On the other hand, if they seem engaged and interested in what you're discussing, then keep it going.
Reading nonverbal cues like these can go a long way to making you a better communicator.